Your Support Will Build The Trail !!!
Join and Help build & support the Chester Creek Trail
Membership Application
Tell Us Where You Are From !!!

Upper Trail Map 1 Link Alt trail Map 1
Lower Trail Map 2 Link Alt Map 2
Impact of Creek Road Development in Middletown Township to the Proposed Chester Creek Branch Rail-Trail
Click Picture For Full Version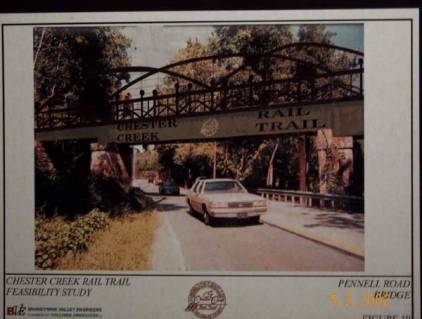 1.

1. PA Trails
5.
7.
The 6.5 Rail trail will traverse parts of Middletown, Aston,
and Chester Townships. It would connect the soon-to-be-opened
Septa R-3 commuter rail station at Lenni Mills with
the historic Caleb Pussy Plantation in Upland!!!!

Showcasing Delaware County history, preserving green space, and providing an alternate transportation corridor, the "Chester Creek branch" rail line becomes the focus of a Rail-Trail conversion project.
I recommend This, Free Antivirus...
<![if !supportEmptyParas]> <![endif]>
<![if !vml]>

<![endif]>Free Anti-Virus Protection!
Use our unique offer - AVG 6.0 Free Edition. Download, install and use AVG 6.0 Anti-Virus system to reliably protect your computer and data free of charge. Go to Free Download Page to get more information.

Get the Free Adobe Acrobat if you can't read Evaluation file.
Thursday, June 19, 2003